Here are some photos from our Birthday/Housewarming party.  These are by no means all and I'll try to post some more later.
He's actually watching tv, I'm ashamed to say (it IS BabyTV) …
but how cute is he???


Click for more! –>
Mmmm…. chocolate frosting!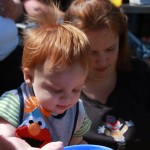 Same crazy spikey hair, same expression … ok…. maybe he is mine.
(btw … you're lucky to see this — I should have burned it thanks to my 7th chin showing!)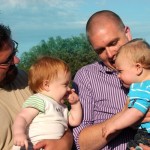 Luther and his (second?) cousin, Oliver.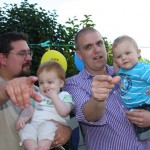 Dads will be dads!!


Oliver and his dad, Paul (Andrew's cousin)