I'm working on our family photo book and I realised I've actually been feeling very creative the last few months … I'm so darn tootin' proud I've decided I'd show it off!  So go away if you like or just sit back and let me bask in the glory of me.
1.  Thanksgiving table
I made up "I am grateful for" tags for each guest and, mutilating a paperclip to be a placeholder, stuck it in a pumpkin.  I also printed up "THANKS"  letters and wrapped them around old spaghetti jars and put tea lights in each one.  (If you want to duplicate, make sure you put a T on the other side of the S and a K on the other side of the H and so on, that way the people on the other side of the table aren't reading "SKNAHT"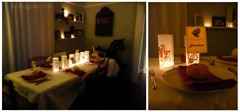 2.  Vanilla extract labels
We made vanilla extract this year and I hunted down some old-looking medicine bottles and made up apothecary-style labels to adorn them.
3. We'd love to stay and chat but we really [moustache]
For some of our friends that we thought would enjoy it, we made up little party photo kits.  Each kit had about 5 or 6 moustache styles, a couple pairs of glasses, a hat, a pirate patch and a few word art sticks.  They were all put in a glass filled with Hershey Kisses and we added a little card.
4.  Thanks a Latte
To come once I find the photos!
5.  Pirate Party
I think this will need it's own post.  I'll link here when it's done.
6.  Vi's birthday
It was Vi's 70th birthday and Julie's 40th birthday a couple weeks ago.  Julie didn't want a party (I totally get it!) but as expected there was a big blow-out for Vi.  For her party I made a big collage of photos of her in the shape of a "70"  (thank you Pinterest!) The photos were from her as a baby to present day and I think each number was about 3 feet tall.  If you want to do this, here are my tips.  (a) allocate a lot of time!!  I thought it would be a relatively quick job but it took me about 6 or more hours in all  (b) invest in loads of tape.  You can't tape it enough.  When you think you're done, tape more.  (c) Make sure you have many different sized photos.  It made it easier to fill gaps, etc.
P.S.  Fashion faux pas alert: Andrew and Mark are wearing the same shirts completely be accident!
7.  Baby shower invite
As you may or may not know my sister-in-law is going to have a baby in October.  YAY!!!  While her mother is throwing the main baby shower my mom wants to throw one for my mom's friends.  As a result she asked me to create the invites.  She had bought some pre-cut vellum invites and I designed something to go with that, but she had some major difficulties printing so I just designed something else and had it sent to Staples where my mom could pick it up, already printed and cut.
aaaaaand, I think that's it.  Apart from scrapbooking … I've been doing a boat load of that too.